Showroom
Maagaard glass art - all
my designs are one-of-a-kind-art pieces.
I design in themes,

and I

am

inspired

through

our

exciting life.
Each

piece of

glass art

is

unique

and

therefore

the themes are

constantly evolving

and

always opening for

new possibilities

.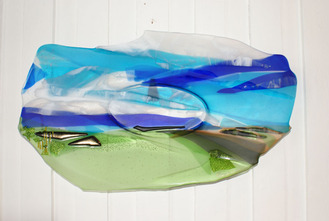 Testimonial from customer on Sept 11, 2012:
"We've known you a long time and therefore it was you who should make the first art for our new home. You even came and hung it up so we could see it hanging correctly in relation to light and air.
We chose the shape and colors, so we exactly could get the work of art that suited our home. When we look at the artwork, we feel that we live in the middle of it, because we can see your inspiration from the land of Hills and waves. Not a day goes by without enjoying our beautiful glass art and we always find new and beautiful details, the light falling from different angles and making the artwork changing through sunny and rainy days!
Many good greetings and thoughts to you and your art
Ida and Bjarne"