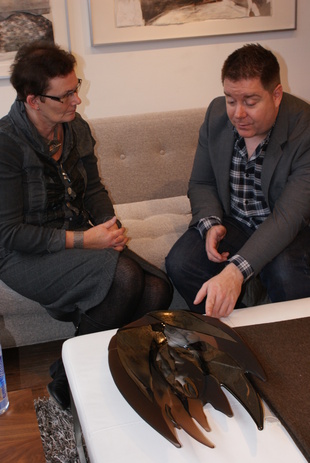 Steven Burgert and I in conversation about my art.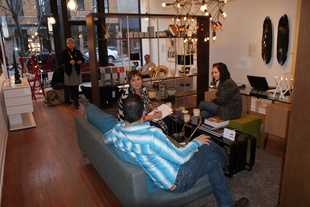 Galleri ID Chicago

"Through my collaboration with the Consulate General in New York, Benthe Montalvo, my art has been introduced to the U.S. market.
Benthe Montalvo visited my gallery in Bøvlingbjerg and could see the possibilities of exhibiting in the United States: "I know of a gallery in Beverly Hills. Here customers walk in and say: "Decorate my house!" And your art fits perfect there! "
Benthe Montalvo has traveled around with my art to 20 exclusive galleries and design stores in New York, San Francisco, Los Angeles, Miami and Chicago.
At Easter 2012 I opened my first show in Manhattan, New York.
10 interested customers from Lemvig attended the the opening, where Ambassador in New York, Torben Gettermann gave the opening speech!
I had to pinch my arm to realize that I WAS awake!!
Now I exhibit popularly speaking in: New York, Chicago and ..... Bøvlingbjerg! "
Agnethe Maagaard
---
Jihane Khawam, Gallery Chez Moi, San Francisco:
"Maagaard`s work, like all great artists', is simply alive.
It tells a story,
it reports a dream,
it reflects a feeling,
it places an imagine in front of a passion and more importantly creates the need to look at it and reflect on what it means to each one of us!"

---
Statement from my friend and gallery owner in Chicago:
"It is a great honour and pleasure to meet you. It has been a wonderful experience to allow clients to learn more and appreciate your work. Much continued success in the future. "
Kind regard Steven Burgert.
Gallery I.D, North Halsted, Chicago
---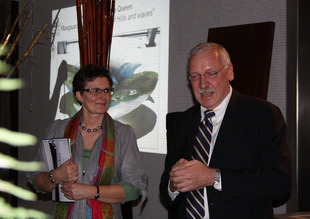 Ambassador Torben Gettermann gave the opening speech at the first show in BLOOM, Manhattan, NY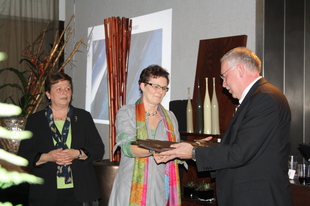 My gift Glass Art Black feather to the Danish consulate in New York.
It now stands on the ambassador table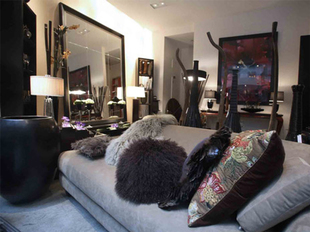 BLOOM, Manhattan, NY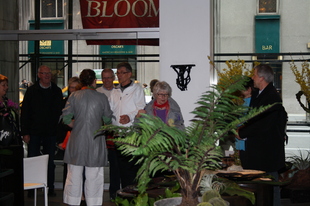 LOCAL SUPPORT!
8 people from Lemvig showed up to my private view at Manhattan. A very proud artist accepts!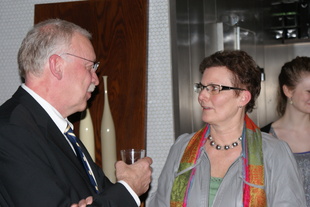 Ambassador Torben Gettermann gives good advice on the US marked.
My old high school classmate the American Susan Bove also turned up for the opening.